---
November 2, 2007 at 7:00 pm in 10-250
November 4, 2007 at 7:00 pm in 10-250


Sponsored by Doctors Without Borders @ MIT and Harvard.

All ticket proceeds will go to Doctors Without Borders.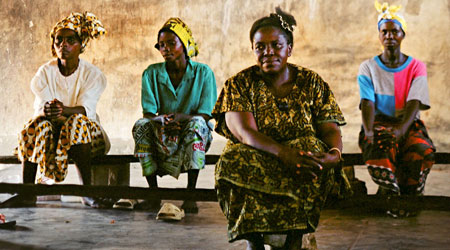 Inspired by the international humanitarian work of Médecins Sans Frontières (MSF), Javier Bardem worked with the organization to produce a film which highlights five neglected humanitarian crises taken from MSF's yearly "Top Ten" list of underreported humanitarian stories. Each topic is addressed in a separate short film, shot by different directors, creating the five-part film Invisibles.
Mariano Barroso directs Bianca's Dream, which looks at the dual role of eflornithine, a drug used as a beauty product in wealthy nations, but which is needed to treat Sleeping Sickness in the Central African Republic. In Letters to Nora, director Isabel Coixet examines how the parasitic disease Chagas afflicting her family in Bolivia affects a young woman working in Madrid. Director Javier Corcuera travels to Colombia in Voices of the Stones, where he documents a group of people affected by the ongoing violence in that country as they try to return to their rural homes. Good Night, Ouma, directed by Fernando Leon de Aranoa, examines the ongoing crises of the "night commuters" and child soldiers in northern Uganda. Acclaimed director Wim Wenders looks into the wide-spread problem of sexual violence and how it is affecting victims in the Democratic Republic of Congo in Invisible Crimes.
This dynamic film gives audiences the chance to encounter situations MSF's medical teams face every day, and helps shed some light on these forgotten humanitarian crises. [doctorswithoutborders.org]
95 minutes, unrated.
---