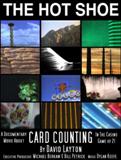 unrated
95 minutes
A FREE Screening and Discussion Panel:
The Hot Shoe (2004)
January 28, 2005 at 6:00pm in 10-250.

The Hot Shoe is a documentary about people who gain an advantage in casino blackjack by counting cards. A decades-long cold war between players and the casinos is revealed through exclusive interviews, hidden camera footage of the MIT card counting team and a case study using $5,000 from the movie's budget. Ultimately, these mild-mannered math aficionados challenge and offend a multi-billion dollar industry that thrives by encouraging compulsive and superstitious behavior and by actively discouraging rational, disciplined thought.

Filmmaker David Layton and MIT team member and poker celebrity Andy Bloch will be in attendance and will answer questions after the screening.

Sponsored by the MIT Poker Club, East Campus, ClubZ, Weekends@MIT, and funded in part by a director's grant from the Council for the Arts at MIT.