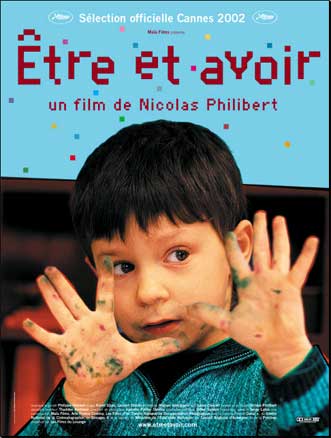 not rated
104 minutes
LSC Classics Presents:
To Be and To Have (Être et Avoir) (2002)


May 9, 2004 at 7:30 and 10:30pm in 10-250.

Renowned documentary filmmaker Philibert (In the Land of the Deaf), trains his camera on the microcosm of a one-room schoolhouse in a remote mountain village in the Auvergne. Following the schools twelve students, aged three to eleven, through an academic year, Philibert observes their day-to-day activities, which emerge with such immediacy and naturalness as to make one wonder how he filmed them. His strategy was to integrate himself and his crew into the class, allowing the children to ask questions and play with the equipment until, their curiosity sated, they regarded the film shoot as just another aspect of classroom life. Like an invisible onlooker, Philibert thus captures moments of intimacy and unexpected humor: a child transfixed by a circling fly; two four-year-olds battling with a photocopier gone berserk. At the heart of the film is the schools stern but compassionate teacher, 55-year-old Georges Lopez, who instructs the students in everything from writing and arithmetic to cooking, while resolving classroom disputes and counselling parents on the side. Shot on film in available light, Être et Avoir is a tribute to the art of close, discreet observation, which here yields unassuming beauty and considerable emotional force.

(Description from the FACSEA website)

In French with English subtitles.

This program was made possible with the support of the Cultural Services of the French Embassy and the French Ministry of Culture.